Nowadays there are thousands of companies promising you the perfect PMS(Property Management Software) for your establishment, especially if that establishment is a hotel. Like choosing anything else that has to do with technology and payment, the decision of choosing the right PMS for you might be time consuming and frankly very stressful. All these companies offering the best "Turnkey Solution" for you, come with a lot of promises of uniqueness and perfect functionality, but how should you choose when all your options look like one of those Chinese menus with thousands of choices.
Before you start the all so complicated process of choosing let's go back to the basics, and I will walk you through some of the problems and how to pick the right PMS.
What is a PMS?
Property Management System or PMS, is a software that gathers all the data from all operational departments such as management, f&b, accounting, and so on; as well as automating operations such as invoicing, reservation management, rooms assignment etc.; it uses all this information towards the management of the property.
It also provides other kind of important data such as ADR, RevPar, pickup and occupancy rate and all other information that helps your hotel to be ahead of the competition and profitable. The PMS is the core of your business as is directly integrated to all 3rd party solutions such as channel manager, booking engine, CRS, yield management software, POS and so on.
This is how the PMS system connects to many other operations in the hotel: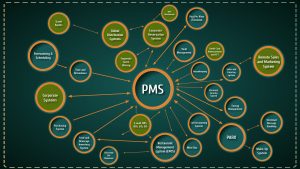 Here are some common problems hoteliers encounter with their PMS systems. Knowing these problems, means knowing how good is your PMS for your hotel at this moment.
Integrations: if your PMS was expensive and it promised the world to you, but it cannot integrate with your channel manager, with your bookings or with any other systems that you have than is not doing much for you, besides making you waste time. So if you don't know where to look to evaluate your PMS, start from here: make a list of all the 3rd parties you work with and check how many of them can and cannot be integrated with your PMS.
This diagram from SnapShot will give you an idea of how integration in a hotel should work: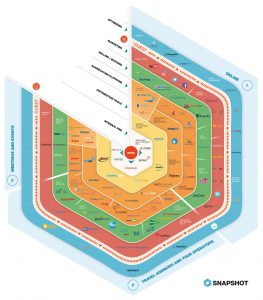 Cloud based PMS: the time where every solution had to physically be installed in each computer, and they would break down, technical support would have to come fix it and so on is gone. Now the PMS is cloud based and it is stored and maintained by the PMS itself. You can access it from any computer from the property. But surprisingly a lot of hotels are still using on-property systems because they don't want to deal with the change.
Your staff: of course, having a PMS that deals with a lot of different actions in the hotel might be slightly complicated, and your staff will need a bit of training and getting used to, and this will be rather stressful for your staff, so be prepared
Pricing transparency: Make sure that you understand all the features listed in the quote before you buy.
Reporting: a PMS can integrate lots of data every minute, but if it does not provide a readable and understandable reporting system, then it's completely useless
Support: understand what the PMS can and can't do for you, when it can do it (choose, if possible, a 24/7 support, especially if you're buying a PMS from a provider not in your time zone), and if and how much it will cost you. Look out for hidden costs.
| | |
| --- | --- |
| | Verify with: |
| Reporting: Can you output the reports you need to manage the hotel both operationally and financially | Owners, Accountant, Maintenance, Operations, Revenue |
| Design: Is the user interface intuitive for the staff, can you train them rapidly. If you hire temporary staff, will they be able to use the system without days or weeks of training? | Front Desk Team, Operations Team, Revenue Teams, Reservations Team, Management |
| Pricing: Is the pricing easy to understand? Are there hidden costs for integrations or features you will need? Get the lists of all additional costs that could be added to verify how transparent the pricing is and that you won't have any surprises. | Provider |
| Support: Do you get enough support? While you can't know how much you will need in advance, ensure that you have full coverage for the first 6 month at least. Can they fix problems remotely? | Provider, Other Clients |
| Local/Cloud: Is the system built as a cloud system or is it built to be on-premise? Verify if the systems were built natively that way and not adapted later on which can lead to complications later on. | Provider |
| Integrations: Verify the existing integrations and if they cover your current needs. But more importantly verify if the system is open to new integrations, at what cost and at what speed. | Provider, Other Clients, Other System Providers |
| Features: How frequently is the system being updated with new features. Do they actively bring in 3rd party tools? Is the system ready for future advances in hotel technology? | Other Clients, Other System Providers |
Final Thoughts
Choosing your PMS is a crucial decision for your property and it has to be taken very seriously as it will impact your performance in the long run and your costs.